Entrepreneurs for Impact with CEO Gabe Phillips (Podcast)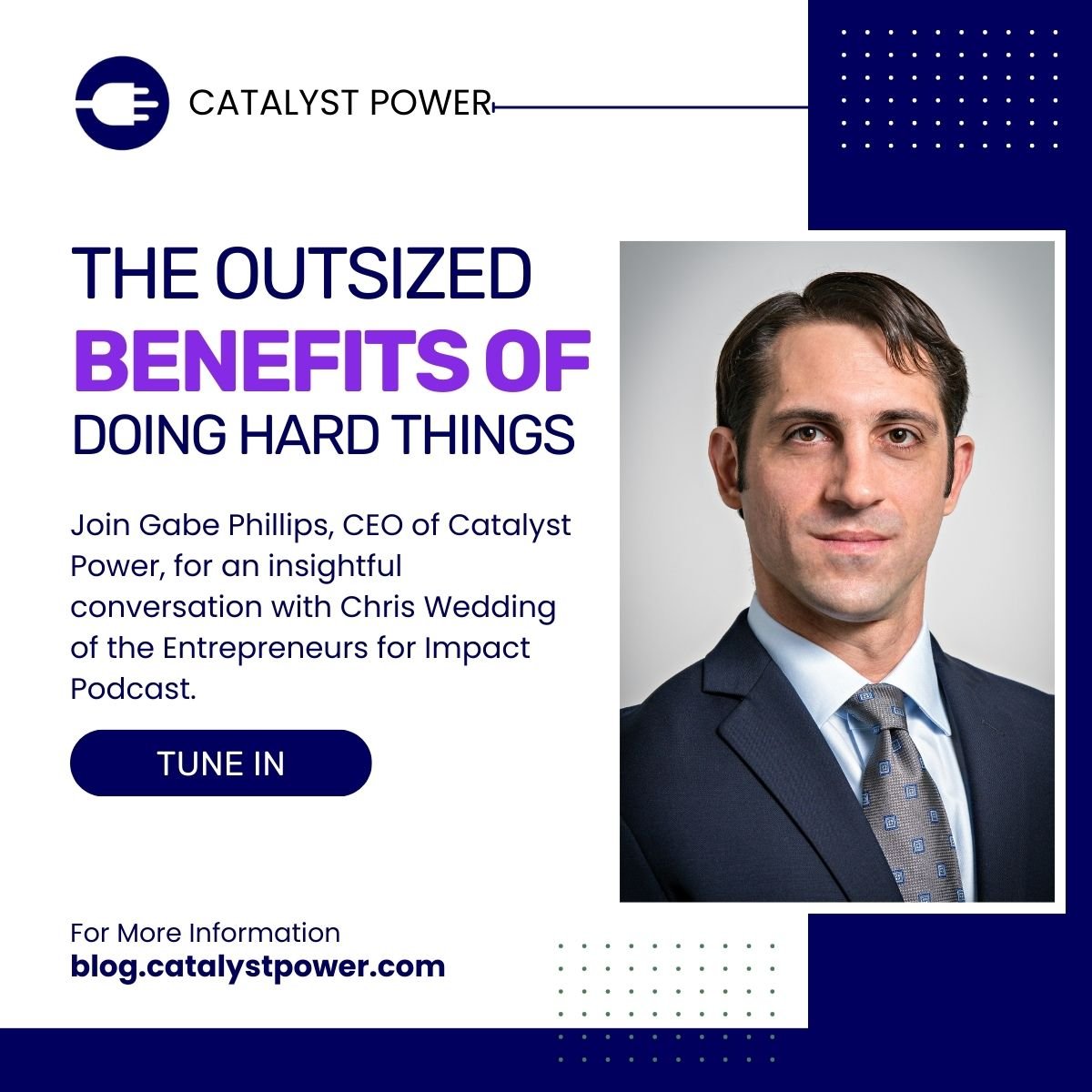 Catalyst Power CEO Gabe Phillips sat down with Chris Wedding of the Entrepreneurs for Impact podcast to discuss all things renewable energy! They covered Catalyst Power's unique business model and risk mitigation for customers, including our acquisition strategy and how we tailor our products. They also dived into more personal topics like daily habits, literature, and lifestyle.
You can listen to the full episode on Apple Podcasts: https://apple.co/3PhFVnA
The interview below has been edited for brevity.
Understanding our customer base and whom Catalyst Power serves:
We focus on energy supply in a lower carbon manner specifically for the mid-market independent business owner of the Northeastern quadrant in the U.S. So mid-market commercial industrial end users are our target, and we supply them with regular way retail electricity. And then we bring them down the decarbonization path, one step at a time. It's a journey for many of them because their mind share for their energy supply is minimal. You know, the type of business I'm referring to is independent. They're not public companies. They don't have a giant procurement department or sustainability officer, or somebody focused on energy or commodity procurement. Even if they're a heavy energy user relative to their output.
Identifying the benefits of decarbonization:
There are different pieces of equipment that could achieve the decarbonizing goal, but you know, the four categories that an onsite solution can provide value to a customer in are typically immediate savings of some form, you know, monetary. Another monetary benefit is long-term budget certainty because there's usually some long-term contracted element to an onsite asset that we as the owner of that equipment need in order to make it financeable.
Then there's the obvious decarbonization element as long as it's renewable or a storage resource that can shift consumption from higher carbon intensity hours to lower carbon intensity hours. And then there's actually like the broader benefit of distributed resources out there of resiliency. So, the utilities are supportive of these things that take away volume from them because they are a non-wired solution to meet many of their localized system-related needs[...] This customer segment is not known for deep penetration of distributed resources and renewables. So, we've had to package this suite of energy and decarbonization products for this customer segment in a way that's more palatable for them, that demystifies it.
The significance of the independent business owner:
The independent business owner in America is, I think, arguably the engine of our economy. I think many people would agree with that statement. It's the largest employer. It's also the largest owner of rooftop space and represents one of the largest consuming groups of end users when you segment them out. And that is a massive opportunity to deploy renewables, both solar and storage at the moment. And it's totally untapped right now.
On our commercial electricity offering:
Retail electricity is the number one revenue driver. It's a thin, thinner margin on a risk-adjusted basis as compared with the other products that you noted that we offer. But it's one that you can get to scale more quickly and it's an ongoing delivery. It's a continuous sale, you know, and assuming we can renew with that customer, and they like the fact that we're communicating with them hyperactively about their opportunities that they could take advantage of that we also offer, they tend to renew with us for a long period of time.
On his personal philosophy:
I did a lot of hiking and backpacking and stuff growing up, and there's a big mantra in that community and signs at every trailhead that say leave it better than you found it. That's a very important mantra to me personally. And so, I have tried to find ways to inject more good than I receive and to try to leave things better than I found them.